The invention of Nothingness No.2b (2012/13)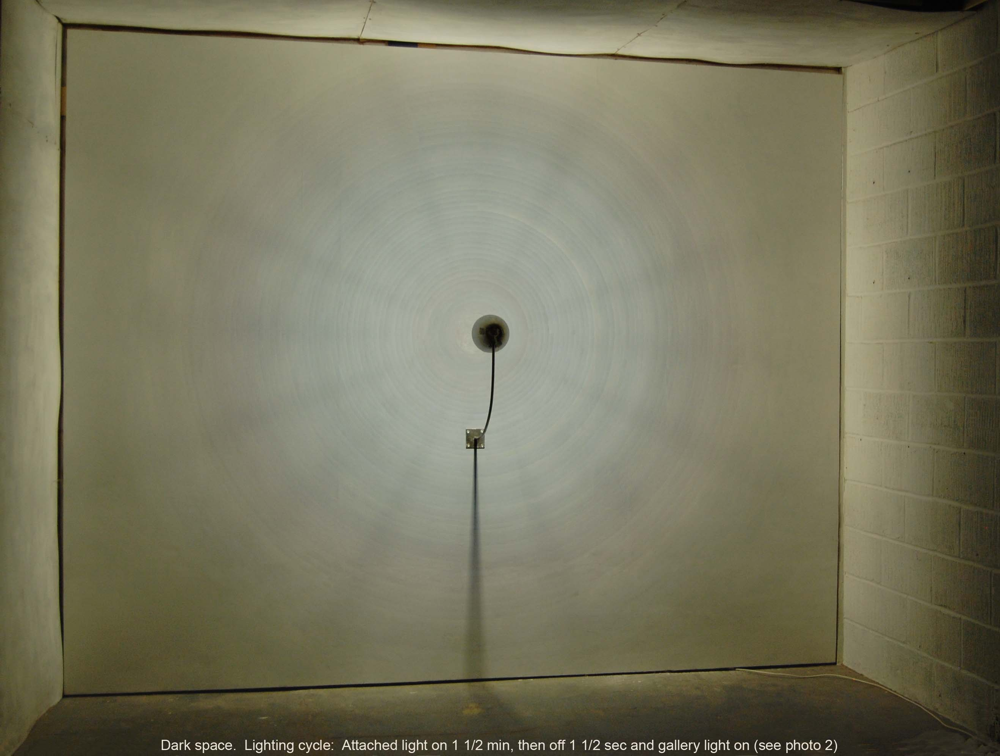 Floodlight + emulsion paint on wooden false wall + timer switch (The floodlight goes out every 2 minutes and the gallery light comes on for 1.5 seconds)
Variable size (panels to fit wall)
The normal view of the piece reveals a seemingly evenly lit wall with very slight concentric ripples. But there is something strange: the small light interrogating the wall at its centre should form a bright focus.
Then every 90 seconds the central light goes out and an overhead light comes on (see second photo) revealing a dark vortex for 2 seconds. Then the lights change and the bland but disturbing status quo of illusion returns.
This effect was created with one inch concentric rings of very matt paint, moving from a small circle of matt black at the centre, through progressively greyer rings graded almost imperceptibly from almost black rings, through 40 greys to white at the edges. I felt the piece had to be very large to fill the visual field and become a self-contained universe. Nothingness is very hard to make by precisely balancing light and pigment, but I hope the difficulty is also invisible and only a sort of metaphysical space remains where we can question our perception of our own real universe, and our brief "being" within it.
It was made in 2 versions on a wooden false wall surface, rather than directly on the wall in The invention of Nothingness No 1. Both were intended for the John Moores Painting prize, exactly fitting their maximum dimensions, but was not viewed since it was considered "too conceptual", though I consider it very visual (and it required a lot of work, shifting the greys by tiny changes of tone till they all effectively vanished)
This piece requires its own very dark room and must occupy a whole wall. The size is flexible to some degree.
Click on an image to enlarge